Cambridge

Online Brochure Downloads Available
More Detail? Please CLICK HERE for larger pictures and our complete supplier PDF brochures.



Burbidge - Cambridge
Cambridge by Burbidge couples the most up to date innovations in foil with the traditional styling of the grooved panels within the doors. The smooth touch alabaster foil Burbidge use with the Cambridge authentically replicates a genuine painted finish, whilst retaining all the benefits of durability and cleanliness associated with foil wrapped kitchens.






Please call 01242 226912 for further details on this kitchen

Online Brochure Download
Please click here to download our online brochure.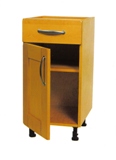 Carcases & Doors
We only use the highest grade carcases which are 18mm thick, including the back panel. If you have any drawers in your kitchen, then we use Blum Soft Close drawers as standard. The carcases also come colour coordinated with your door, thus not needing to add end panels to cover the white exposed carcase.

The doors are of the highest quality. They all have gold stamp from FIRA which tests for durability and quality of manufacture.

To see the carcase & door options avaiable please click here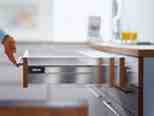 Blum Drawers
BLUMOTION
For silent and effortless closing action
The demand from Blum was to develop a new, technically savvy and inspiring closing function. The action of closing drawers. The result of these efforts is BLUMOTION - perfect motion, silent and effortless.

This means that drawers will close silently and effortlessly without knocking against the cabinet or springing back.

Adaptive system The adaptive system
It doesn't matter whether drawers are pushed gently or with force, heavily laden or empty thanks to BLUMOTION, they will all close silently and effortlessly. The stronger the force of motion the stronger the BLUMOTION effect.

* Unsurpassed running action using the TANDEM runner principle
* Silent and effortless closing thanks to BLUMOTION
* Full extension for a good view and direct access
* Simple assembly, easy setup
* Excellent durability