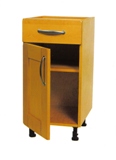 We only use the highest grade carcases which are 18mm thick, including the back panel.

If you have any drawers in your kitchen, then we use Blum Soft Close drawers as standard.

The carcases also come colour coordinated with your door (where applicable), thus eliminating the need for end panels to cover the white exposed carcase.

We manufacture all of our bespoke carcase to order, thus this allows us to make them any height width or depth. Below we have list the most common unit widths.

Egger UK Standard Range
The Egger UK collection of decor finishes provides an eclectic mix of both contemporary and classic designs of the highest quality. As market leaders in design orientation, they anticipate trends.
One of the benefits of the EGGER product is the ability to match all of our kitchen doors using a co-ordinated design approach.
View carcase colour options
High-line base units - Available widths in mm:

150, 260, 300, 350, 400, 450, 500, 550, 600, 700, 800, 900, 1000, 1100, 1200mm

Drawer-line base units - Available widths in mm:

300, 350,400, 450, 500, 600, 700, 800, 900, 1000, 1200

2 Drawer base units - Available widths in mm:

300, 400, 500, 600, 800, 900, 1000


3 Drawer base units - Available widths in mm:

3 drawer (1 x shallow 2 x pan drawers)

400, 500, 600, 700, 800, 900, 1000


4 Drawer base units - Available widths in mm:

4 equal drawer

500, 600


5 Drawer base units - Available widths in mm:

5 equal drawer

300, 350, 400, 450, 500, 600, 800, 900, 1000



'S' Shaped Curved 3 Drawer base units - Available widths in mm:

3 drawer (1 x shallow 2 x pan drawers)

800, 1000, 1200



'S' Shaped Curved Door base units - Available widths in mm:

800, 1000, 1200



Curved high-line base units - Available widths in mm:

300x300, 410x430, 300x560



Belfast Sink Housing - base units - Available widths in mm:

600, 800



Oven housing base units - Available widths in mm:

600mm without drawer
600mm with drawer



Built Under Microwave housing base units - Available widths in mm:

600mm with door
600mm with drawer



Wine Racks - base units - Available widths in mm:

150, 300, 450, 500, 600



Base Open End Units - Available widths in mm:

300x300, 300x560



Base Open Units - Available widths in mm:

150, 260, 300,400, 450, 500, 600, 700, 800, 900, 1000, 1200


Angled High-Line Base Units - Available widths in mm:

250x360, 330x300


Corner High-Line Base Units - Available widths in mm:

800, 900, 1000, 1100, 1200


Corner Drawer-Line Base Units - Available widths in mm:

800, 900, 1000, 1100, 1200


Corner L Shaped High-Line Base Units - Available widths in mm:

880x800, 900x900

Corner L Shaped Diagonal High-Line Base Units

900x900
Wall units - Available widths in mm:

570mm High

300, 400, 500, 600, 800, 1000, 1200

720mm High

150, 260, 300, 400, 450, 500, 600, 700, 800, 900, 1000, 1200

900mm High

300, 400, 500, 600, 800, 1000, 1200
'S' Shaped Curved Door wall units - Available widths in mm:

800, 1000, 1200



Curved wall units - Available widths in mm:

300x300, 410x430, 300x560



Wine Racks - wall units - Available widths in mm:

150, 300, 450, 500, 600



Angled Wall Units - Available widths in mm:

250x300


Corner Wall Units - Available widths in mm:

600, 700, 800, 900


Corner Diagonal Wall Units - Available widths in mm:

600*600


Corner Wall Units - Available widths in mm:

600, 700, 800, 900


Dresser Wall Units - Available widths in mm:

500, 600, 1000


Tambour Dresser Wall Units - Available widths in mm:

500, 600, 1000


Top Box Wall Units - Available widths in mm:

290mm High

500, 600, 800, 900, 1000

360mm High

300, 400, 500, 600, 800, 900, 1000


Broom Units - Available widths in mm:

1820mm High

300, 400, 500, 600, 800, 1000

1970mm High

300, 400, 500, 600, 800, 1000

2150mm High

300, 400, 500, 600, 800, 1000
Broom Units - Available widths in mm:

1820mm High

300, 400, 500, 600, 800, 1000

1970mm High

300, 400, 500, 600, 800, 1000

2150mm High

300, 400, 500, 600, 800, 1000
Larder Units - Available widths in mm:

1820mm High

300, 400, 500, 600, 800, 1000

1970mm High

300, 400, 500, 600, 800, 1000

2150mm High

300, 400, 500, 600, 800, 1000
Oven Housing Units - Available heights in mm:

Available options for single ovens , double oven, microwaves and plate warmers

1820, 1970, 2150mm High




Fridge Freezer Housing Units - Available heights in mm:

Available options for 50/50 split and 70/30

1820, 1970, 2150mm High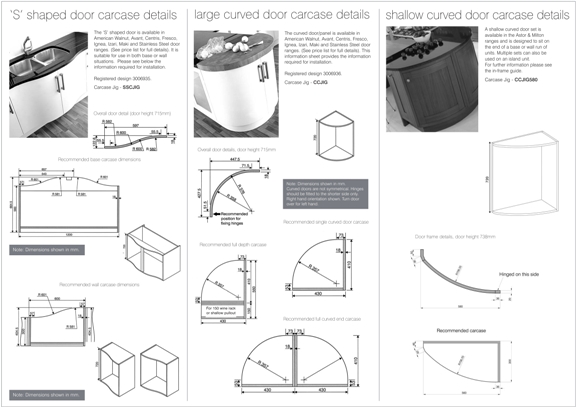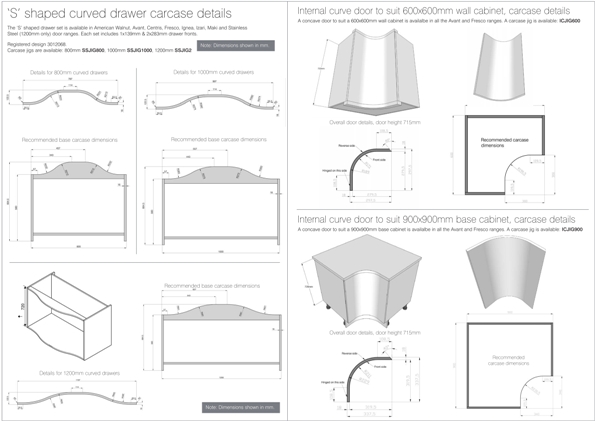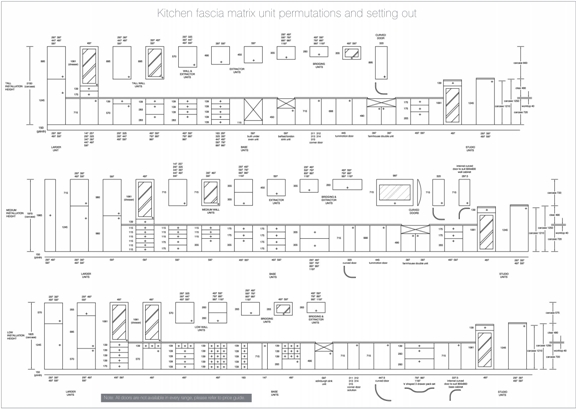 Please to enlarge it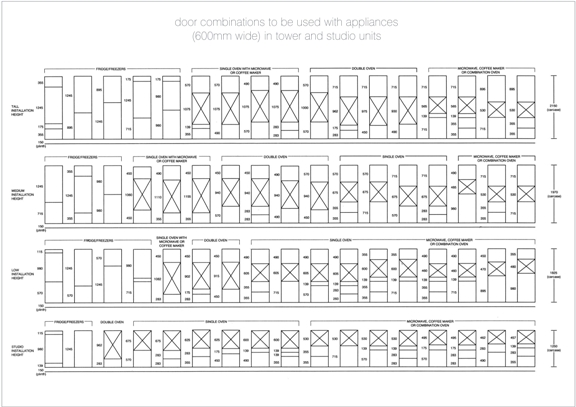 Please to enlarge it