Nothing quite matches the look and feel of a timber kitchen. Sure to impress with it's rich textures and solid structure, it provides a warm welcome for anyone who walks into the room.

Our superior range of polyurethane vinyl coated kitchens come in an abundance of styles colours and finishes, and are guaranteed to remain looking as good as new for as long as you own them.

If you are after a traditional kitchen, then look no further. The kitchens in this section are all beautifully finished with that inframe look creating a stunning fusion of new and old. This is Burbidge, Second Nature and Kitchen Stori at their very best. In-framed, inset or framed kitchens are given the name due to to the picture frame exterior of the door, this extrusion is fixed to the kitchen cabinet providing a subtle border for the door style of your choice. Popular with the traditionalist the framed inset kitchen offers style that has stood the test of time and will continue to do so for many years to come.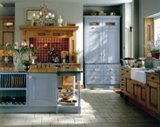 Whether you are aiming to make a strong statement with bold daring colours or create a peaceful haven with soft pastels, a painted kitchen is the ideal solution for you. Your painted kitchen can epitomise the contemporary, the traditional, or anything inbetween.