Need help? Speak to our kitchen experts on 01242 226912
Wooden Worktops and Bepsoke Handmade Wood Worktops
Timber.
Wooden Worktops are truly magnificent. As ex-fitters and enthusiastic designers we wood in high regard as it's such a pliable material and some of the grain patterns displayed are breath taking. Our guide to wood worktops will try to place some of the more obscure woods into groups in terms of colours and grains. If you, like us, love the natural patterns a real wood worktop creates then you should be looking at the following:
Iroko
- lovely shards of almost angular light and dark wood together, that will consolidate over time into a deep caramel and dark chocolatey mix,
Any of the Walnuts are always sumptiously warm, like melting chocolate -
American walnut
tends to be much darker than its
European walnut
cousins which are a shade lighter but still with a soft meandering grain.
Zebrano
- as the name suggests is almost striped in appearance with blacks, deep browns, caramels and brown sugar tones .
Cherry
with peachy tones is one of the lightest of the wider-grained kitchen worktops. The beautifully warm tone gives you a sense of calm every time you walk into your kitchen.
Finally
Maple
, almost blonde in hue with contour like grains that sweep down the length of the work surface adds a summer breeze feel to any room and will always put a smile on your face.
The other tighter-grained solid wooden worktops such as Wenge, Oak, Beech, and Bamboo are the hardcore of durability.
Wenge
is often known as the granite of the real wood worktop world. Wenge is dark and brooding and adds a touch of menace to high gloss units from white to cappuccino. Wenge will punch its way into the eye line to making a statement on your behalf.
Of
Oak
we are all very aware! Wrongly stereotyped as expensive but correctly distiguished as the king of woods. Oak is a friendly giant that will sit in your kitchen oozing traditional English quality.
Now
Bamboo
is a relative newcomer to the kitchen worktop scene and is a grass not a wood however its tight hard wearing fibres and natural water-resistance make it an ideal candidate for potentially wet environments. Very similar to beech in colour, the only difference being the tight nodule type grain appearance. Bamboo is the new eco-friendly kid on the block testing everyone's boundaries.
I hope this has helped you imagine what is possible with the modern wooden worktop and at the very least made you have a little think about the best wood for you. If for any reason you need a sounding board for your ideas, please give us a call and we will be only too happy to help.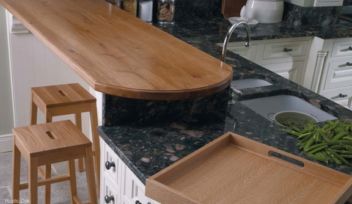 Please select next action