Need help? Speak to our kitchen experts on 01242 226912
Bespoke Kitchens & Solid Wood Handmade Kitchens
What is the Bespoke Chimera Kitchen Collection
Bespoke is a British English term employed in a variety of applications to mean an item custom-made to the buyer's specification, couple this with Chimera; an Illusion, Dream or Fantasy - and here in our Bespoke section we make dream kitchens a reality.

Our craftsmen will work tirelessly to bring forth the realisation of a traditionally crafted exquisite handmade kitchen. The Bespoke Chimera Collection will no doubt satisfy any urge for decorous indulgences during the design process and will deliver sumptuous results that will leave your peers gasping.

Each of our Bespoke kitchen doors can be exposed to numerous finishing techniques for example; Sanded, Antiqued, Distressed, Antiqued & Distressed, Full Patina, Full Patina & Distressed and Dubbed Corners or Pegged Corners. No matter which effects you choose the result will be a handmade luxury kitchen crafted to the enth degree.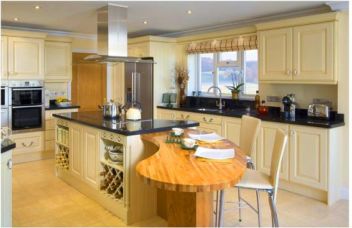 Bespoke In-framed Door Kitchens
Bespoke Conventional Door Kitchens
Page: 1 2 > >> View All (18)
Page: 1 2 > >> View All (18)
Please select next action